Pattern making is the beginning of the manufacturing process; our goal is to ensure your pattern is prepared with that view in mind,
endeavouring to make it a smooth, successful run through the production and manufacture.
Patterns from Any Stage of the Process
From a block, sample, photo, sketch or specification, let us make your sample pattern to meet your design requirements. Or, let us take your ready made sample pattern into our system for grading.
Grade rules can be set up for each specific requirement and extra sizes can be quickly and easily added to styles at any time.
Custom Fit
Our skilled team can incorporate fitting sessions with your garments to ensure your pattern is of a precision fit.
Shrinkage can also be incorporated into your patterns by scaling up or down with the touch of a button.
Production Ready
Once your style is graded and ready for production, we can then take it to the marker making process or we can cut you sets of sized patterns through our card cutting plotter.
Quick and Easy Modification
Modifications to existing CAD patterns and markers can be done quickly and easily. Repeat work and new style set ups are cost effective while you build off existing known blocks.

With first off sample patterns, we can draw up up a detailed style and construction specification sheet with working drawings for
the ease of the sample manufacture and understanding of the pattern set up.
For bulk production; in addition to the first spec (as above) we can set up sized specifications charts from your graded patterns. This is a great asset to send with your production to ensure correct sizing and detail is being adhered to, especially when dealing with offshore manufacture.

Once your first sample pattern is made, we can lay a sample marker to your fabric width for your sample to be cut from.
This will also give you an efficient fabric usage for your costing.
Upon patterns being graded and ready for production we can lay markers for your bulk garments to be cut from. CAD marker making is a very effective way to see how your cloth is being used and enables you to order cloth more accurately.
We have the ability to prepare cut files for automatic cutting machines.
Repeat markers for ongoing styles can be updated and re printed quickly and cost effectively.
Markers can be laid to match stripes and checks by placing a dimension grid on the marker to match the fabric.
Markers can be scaled up and down to incorporate shrinkage.
Block fusing can be done efficiently and accurately.
We run a plotting service for customers that use the same software but don't have a plotter.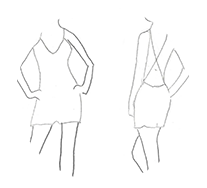 Step 01
Send us your photo or sketch. Explain the look and the fit, who your customer is and the fabric you will be using.
We will set up a pattern from our developed standard NZ fit blocks to best suit your design. We will take into consideration the fabric being used and the construction of the garment for ease of manufacture and cost.
Step 02
A screenshot of the completed pattern will be emailed to you alongside a one page specification sheet outlining all details for your finalising and approval.
We will then lay a marker to send to your cutter to cut your sample from.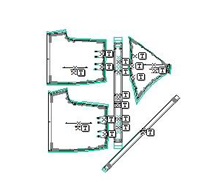 Step 03
Upon receiving your first sample we can help with the fitting and alter your pattern for fit or design if required.
Once you are totally happy with your pattern we can grade in preparation for production.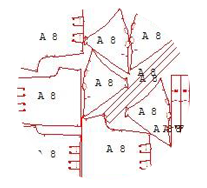 Step 04
Production markers can be laid once your sales are complete and your fabric arrives.
We can also produce cardboard patterns for sampling or production.